Graphic from https://www.infineon.com/cms/en/discoveries/fundamentals-robotics/
For nearly 70 years, humans have been using robots to perform tasks both large and small, specific and general, important and menial. The first programmable robot was designed in 1954 by George Devol for the purpose of universal automation, i.e. repetitive work in factory assembly lines. Since the beginning of robotics, people have had a fascination with them for the variety of tasks they perform and for their contributions to the field of Artificial Intelligence (AI). Robots help grow our food, clean our house, construct objects in a factory, and even recognize our voice commands on (automated) phone calls.
Off the pages and into the world of STEAM
The intersection of robotics, AI, and science fiction has a long history combining STEAM concepts for what feels like forever. One can think of select Leonardo di Vinci drawings, Mary Shelley's Frankenstein, Star Wars' R2D2 and CP3O, among countless others. It's no wonder we've designed so many of today's robots to have human features and capabilities. Roboticist Ken Goldberg states in his TEDTalk, 4 lessons from robots about being human that "Robots are the most human of all machines." We don't disagree. With scientists, technologists, statisticians, inventors, entrepreneurs, and humans of all kinds programming robots, it makes sense we would pass some of our qualities on to them. Of course, not all robots are designed to look or act like humans; we have also engineered self-driving cars, talk-to-play speaker devices, flying drones that take photos, and the Mars Rover.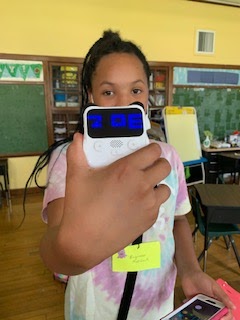 Robots have fascinated humans since beginning of time; this applies to kids, too! Photo is from one of our Coding Camps.
Bringing Modern Technology Into the Classroom
All of these things inspire our mission and fuel our passion for robots, coding, and STEM. Combining the long history of robotics with modern lesson plans that best equips today's youth with the skills of tomorrow is the starting point for our curricula. For our youngest learners, we have the mTiny robot that helps with socio-emotional learning and early development. HaloCode encourages elementary and middle school students to learn coding by creating digital games and art. The Ranger and Ultimate robots broaden high schooler's coding skills with missions to retrieve secret codes and build a Mars Habitat. Our curriculum is designed by senior educators and STEM experts, accompanied by top-tier Professional Development, to ensure students and teachers of all backgrounds are able to enjoy and contribute to the limitless future of robotics.
We'd Love To See Your Classroom
To learn more about our curriculum, visit our website. You can request information by filling out this form or call us at (760) 650-3687.