Who creates Exploring Robotics Products?
Helping Educators to Prepare Engineers is our Mission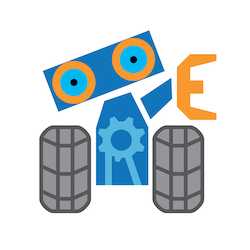 Our mission is to help
E
ducators prepare the next generation of
E
ngineers who will be solving the world's problems. We support
E
ducators in implementing STEM programs by providing world-class STEM learning environments that meet people where they are in their learning journey.  Our formula for your classroom is:
Easy to Teach STEM Curricula
Engaging STEM Lab Stations
Exemplary Support for Teachers
Exemplary Support for Teachers
K-12 Educators are our customers. We help educators create a supplemental unit or course, an after school program, or a STEM camp to implement in their school or community.

We specialize in assisting educators who have little to no knowledge about robots or coding. Classroom teachers often haven't had CS or coding classes before using Exploring Robotics products. But they find that after a few hours of hands-on professional learning with our expert facilitators, they can do it! They are comforted to know that our team of STEM Specialists are there to support them every step of the way. Our support team gives them their cell phone numbers, emails, and prides themselves in providing prompt exemplary support.

Enhanced Professional Development
The enthusiasm that our STEM Specialists bring is contagious! Our STEM Specialists are dedicated to helping educators no matter where they are in their learning journey with STEM. They spread their knowledge and are there to support educators during virtual learning sessions and afterward when questions arise during implementation.
They are helping teachers across the country to spearhead new STEM and CS initiatives in their schools. Teachers are helping to inspire the next generation of young people to explore STEM careers, and learn that ANYONE can be an engineer.
Engaging STEM Lab Stations
We don't make the robots, however we partner with great companies who do.  When choosing robots, we put them through the paces – checking out their durability, their battery power, their programming ability – all part of our 20 point checklist. We only choose those that will stand up to classroom use for 3+ years for our STEM lab packs. Our support team also helps teachers to return the occasional robot that is not meeting expectations. 
We create STEM Lab Stations for each grade K-12.  This includes the robots and rechargeable batteries, chargers, accessories, and materials needed to support the lessons.  Everything teachers need is in one lab package.
Easy to Teach STEM Curricula
Creating an Easy to Teach online Curriculum is what we do best. Our passion is helping teachers to teach topics that they may find challenging at first – like Computer Science and Engineering. We make it fun by providing slide decks, videos, and hands-on activities that engage students.
Lessons include the background knowledge and skills needed for integrating engineering, math, science, and computer science. Each curriculum is developed around a theme so that students can imagine themselves as engineers, like Mission to Mars, Automated Vehicles, Secret Mission, and Mars Habitats. Each series of lessons ends in a culminating activity like a robot competition or using the robot as part of a project to help someone in the community.
Lessons are designed for physical science and engineering, and also meet the CS-K12 standards of teaching computer science at each grade level. Teachers are amazed at the number of standards they can check off their list with our integrated curriculum!
We include music, dance, drawing, and other activities to gain the initial interest of girls and those students who may not initially be interested in STEM. Then they discover that coding a robot is fun and we find it is often the girls who excel and win
during in-class and district-wide competitions.
Exploring Robotics Foundation Story
IMP began with Linda leading a team that was assisting colleges and universities to take their courses online. Over a period of a few years they worked with professors and converted over 100 courses. When working with an Electronics professor, he complained that they could not get students to sign up for his program. He had a fun robot (Boe-Bot) that students could use to learn electronics, but little student interest. Grant and Linda felt that the robot could be the catalyst to engage students so they would gain an interest in electrical engineering and computer science in high school.
When the CSK-12 standards and NGSS engineering standards were released, curriculum developers helped to align the lesson content so that it followed the standards and progressed in concepts from one grade to the next. This led to the Exploring Robotics K-12 Pathway.